Here are some really cute Superhero Thank You Cards for kids birthday parties. This is a flat two sided thank you card with plenty of room for your little super hero to write out his thank you words of gratitude on the backside. These cute Super Hero Invitations have a superhero boy with a blue cape and red eye mask with a "S" on his chest for Superhero. Next to the large superhero character is a star burst design in red and blue. The top border of the invitation has superheroes flying across the invite. The bottom border has superheroes standing on top of buildings along the city's skyline. The invitation text is centered in a big yellow star burst design. The backside of the invitation also has a full color superhero and another star burst in yellow and red and room to write your thank you. The background of this invitation is white. The font of the invitation text is red and blue in a comic book style font. These are cute and brightly colored invitations for boys who love Super Heroes or Comic Book characters.
These are designed to match any of these cute
: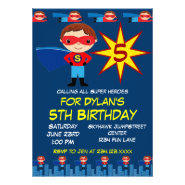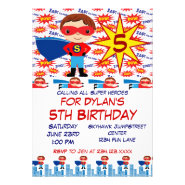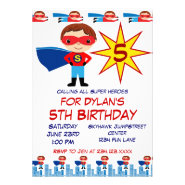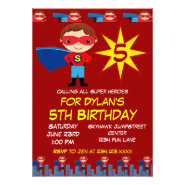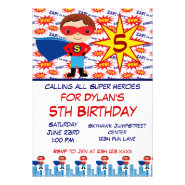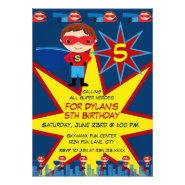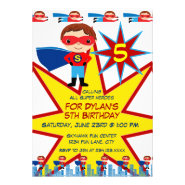 See more custom birthday party invitations and templates at
Custom Printed Invites
.