Calling all Superheroes Kids Birthday Party Invitation template for a boys birthday party with a red, blue, and yellow comic book superhero colors. These cute Super Hero Invitations have a superhero boy standing with his hands on his hips with a blue cape flying in the wind, a red eye mask, and a hero costume with a "S" on his chest for Superhero. Next to the large superhero character is a star burst design in red and blue with your child's age. The top border of the invitation has superheroes flying across the invite on a background banner of yellow and red. The bottom border has superheroes standing on top of buildings along the city's skyline sketched in blue. The invitation text is centered inside a big yellow star burst design. The backside of the invitation also has a full color superhero and another star burst in yellow and red, with the age of your child, along with borders of flying heroes. The background of this invitation is blue. The font of the invitation text is red and blue in a comic book style font. These are cute and brightly colored invitations for boys who love Super Heroes or Comic Book characters.Just enter your child's birthday party information in the template spots. Use the customize it button if you want to move things around or change the colors of the font. These are perfect invitations for a super hero birthday party for boys.
Here are some more variations and colors of these cute
: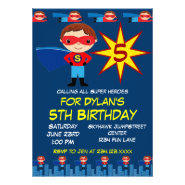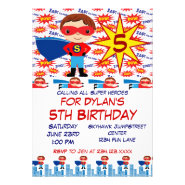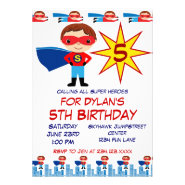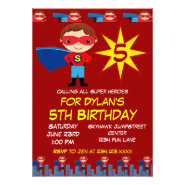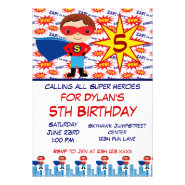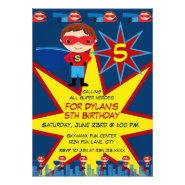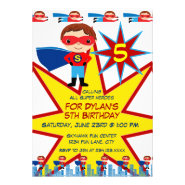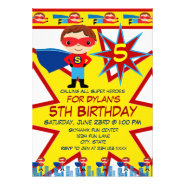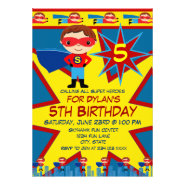 See more custom birthday party invitations and templates at
Custom Printed Invites
.